In this comprehensive guide, we will delve into the world of heavy machinery and introduce you to the CAT 308CR, a compact marvel that has been dominating construction sites for years. Whether you're a seasoned professional or new to the construction industry, this machine's specifications, pros, cons, fuel efficiency, and productivity will leave you with no doubt about why it should be your next investment.
Table of Contents

Introduction
Specifications
Pros and Cons
Fuel Efficiency
Productivity
Cost Analysis
Conclusion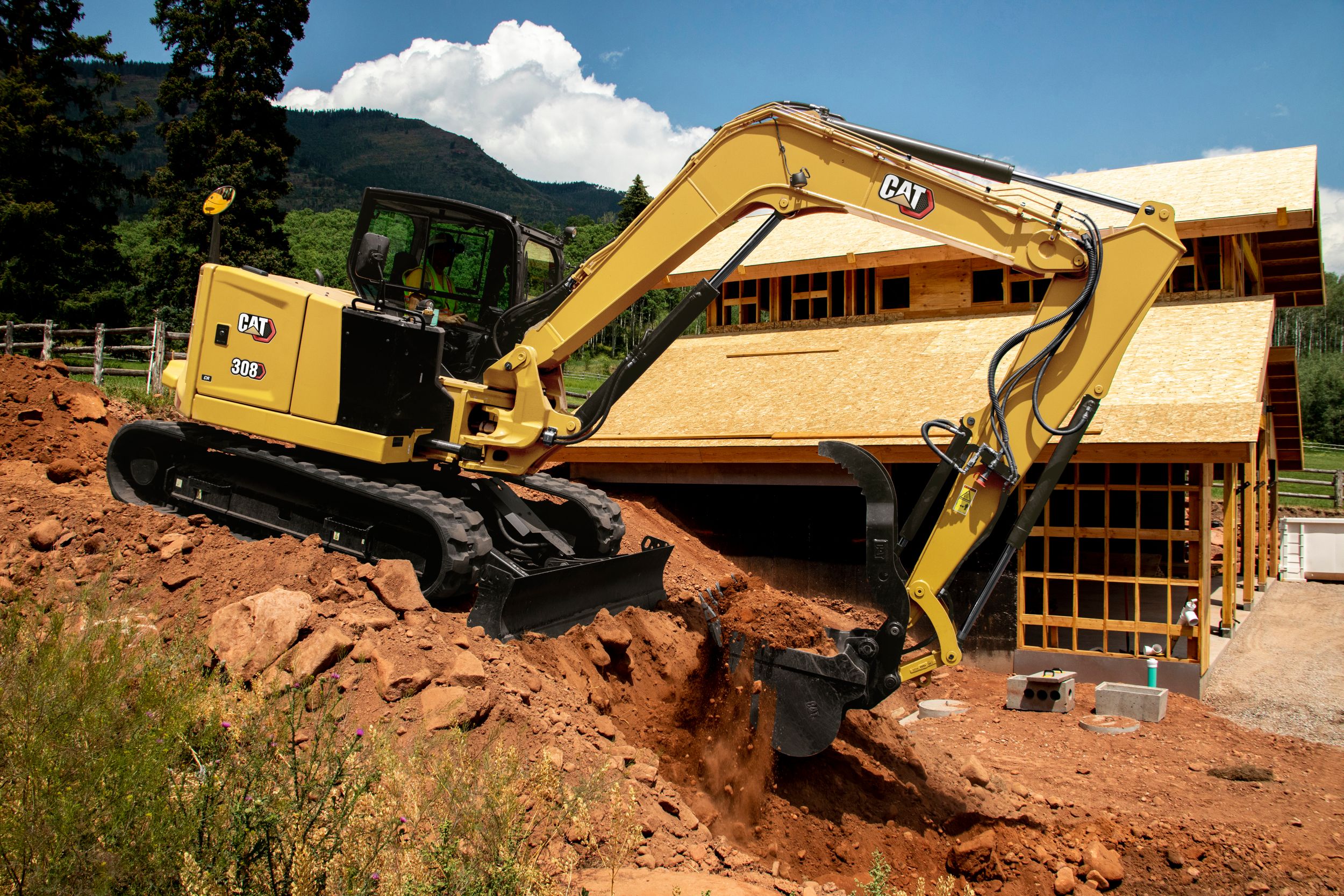 Specifications
Let's begin by exploring the technical prowess of the CAT 308CR through a detailed specification table:
| Category | Specifications |
| --- | --- |
| Engine | CAT C3.3B DIT Turbocharged Diesel Engine |
| Net Power | 70 hp (52 kW) |
| Operating Weight | 18,500 lbs (8,400 kg) |
| Bucket Capacity | 0.25 – 0.55 yd³ (0.19 – 0.42 m³) |
| Max Digging Depth | 15.4 ft (4.7 m) |
| Max Reach at Ground | 24.5 ft (7.5 m) |
| Fuel Tank Capacity | 30.4 gallons (115 liters) |
| Hydraulic Flow | 32.1 gpm (122 lpm) |
| Travel Speed | 2.9 mph (4.7 km/h) |
| Undercarriage Width | 79 inches (200 cm) |
Pros and Cons
Pros
Versatile Compactness: The CAT 308CR's compact design allows it to navigate tight spaces without compromising on power.
Impressive Power: With a robust 70 hp engine, this machine can tackle a wide range of tasks with ease.
Enhanced Reach: Boasting a max digging depth of 15.4 ft and a reach of 24.5 ft, it excels in deep excavation and reaching distant areas.
Fuel Efficiency: The CAT C3.3B engine is designed for optimal fuel efficiency, saving you money on operational costs.
Operator Comfort: The spacious cab offers ergonomic controls, air conditioning, and excellent visibility for fatigue-free operation.
Durable Build: CAT's reputation for durability holds true in the 308CR, ensuring a long lifespan.
Cons
Higher Initial Cost: The advanced features and engineering come at a premium, making the initial investment steeper.
Maintenance Requirements: Regular maintenance is crucial to keep this machine in peak condition.
Fuel Efficiency
The CAT 308CR is renowned for its impressive fuel efficiency, thanks to the state-of-the-art CAT C3.3B engine. It optimizes fuel combustion and minimizes waste, resulting in significant cost savings over the long run. This efficient engine not only benefits your wallet but also reduces your carbon footprint, contributing to a more sustainable work environment.
Productivity
When it comes to productivity, the CAT 308CR excels in various applications. Its powerful digging capabilities, combined with precision control, ensure efficient and accurate excavation. Whether you're working on construction, landscaping, or utility projects, this machine's versatility and reliability will boost your productivity and meet tight deadlines.
Cost Analysis
While the initial cost of the CAT 308CR may be higher than some competitors, its long-term cost-effectiveness, fuel efficiency, and durability make it a wise investment for any construction business. When you consider the reduced maintenance costs and increased productivity, the overall cost of ownership becomes highly competitive.
Conclusion
In conclusion, the CAT 308CR is a compact powerhouse that offers remarkable specifications, impressive pros, and only a few cons that can be easily outweighed by its benefits. With exceptional fuel efficiency, productivity, and a strong build, it's a machine that can take your construction projects to new heights. While the initial cost may be a consideration, the long-term gains in both efficiency and profitability make it a compelling choice for any heavy machinery fleet.
Meta Description
Key Phrase
, compact heavy machine, specifications, fuel efficiency, productivity, construction needs.